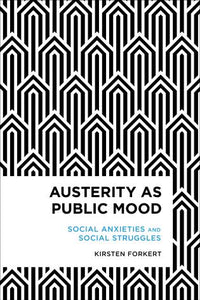 Austerity as Public Mood Social Anxieties and Social Struggles. Kirsten Forkert
Regular price
£25.00
£0.00
Unit price
per
Tax included.
Austerity as Public Mood explores how politicians and the media mobilise nostalgic and socially conservative ideas of work and community in order to justify cuts to public services and create divisions between the deserving and undeserving. It examines the powerful appeal of these concepts as part of a wider public mood marked by guilt, nostalgia and resentment – particularly around the inequalities produced by global capitalism and changes to the nature of work.
In doing so, the book engages with urgent questions about the contemporary political climate. Focusing on the UK, it challenges accounts of neoliberalism which frame it as primarily an individualising force and localist definitions of community as mitigating its damaging effects. Finally, it explores how resistance to austerity can challenge these tendencies by offering a politics of solidarity and hope, and a forum for experimentation with alternative forms of collectivity.
About the Author
Kirsten Forkert is a lecturer in Media Theory at Birmingham City University. Her research looks at the politics of cultural work and education. Her PhD thesis explored the conditions experienced by freelance artists in London and Berlin and serves as the basis for her first book, 'Artistic Lives' (Ashgate, 2013). She has also published on media art, activism, and the globalisation of education in several journals and edited collections. Prior to academia, Kirsten was active as a media artist, curator and critic. She has been involved in community media, media art and activist projects, including 'Video In' in Vancouver, Canada, and 'Democracy Now!' and the '16beaver Collective' in New York.
Hardcover 228 pages
Publisher: Rowman & Littlefield International
Language: English ISBN: 978-1783481934 15.9 x 23.9 cm
---
Share this Product
---