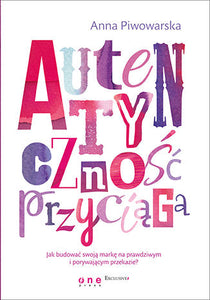 Autentyczność przyciąga. Anna Piwowarska
Regular price
£6.40
Sale price
£8.00
Unit price
per
Tax included.
Autentyczność w biznesie pozwala ci być sobą w tym, co robisz! Wyróżnia ciebie i twoje usługi oraz sprawia, że twoja marka staje się nie do podrobienia. Pozwala ci też docierać do właściwych odbiorców — twoich idealnych klientów.
Bo autentyczność ma moc przyciągania!
Poradniki biznesowe często przekazują wiedzę oraz zasady, których należy przestrzegać przy budowaniu swojej marki i rozwijaniu firmy, ale bardzo rzadko wspierają w podejmowaniu samodzielnych decyzji, wybieraniu tego, co jest najlepsze akurat dla ciebie, poznawaniu siebie i słuchaniu własnej intuicji. Tym razem jest inaczej!
Masz przed sobą praktyczny przewodnik zawierający mnóstwo ćwiczeń, pytań, które należy sobie postawić, a także przykładów tekstów i osób, które zaczęły budować swoją działalność na autentycznym przekazie — pochodzącym z ich wnętrza, czyli zgodnym z tym, kim są, w co wierzą i co jest dla nich ważne.
Książka pomoże ci w budowaniu swojej marki (osobistej i firmowej) w sposób autentyczny, który będzie jednocześnie atrakcyjny dla twoich klientów. Przeczytaj ją i sprawdź, czy to podejście jest dla ciebie.
Jeśli tak — zacznij działać!
Zagadnienia poruszane w książce są bliskie nowym trendom w marketingu, takim jak personal branding, storytelling, content marketing.
Budowanie marki na autentycznym przekazie to prawdziwa rewolucja w podejściu do biznesu!
ISBN 978-83-283-0662-2
140 x 208 cm
miękka oprawa
192 str.
---
Share this Product
---