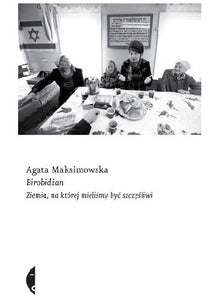 Birobidżan. Ziemia, na której mieliśmy być szczęśliwi - Agata Maksimowska
Regular price
£8.50
£0.00
Unit price
per
Tax included.
Birobidżan miał być dowodem na to, że rewolucyjna energia dotrze do najodleglejszych zakątków radzieckiego państwa. Że ex nihilo powstanie nowe żydowskie życie i żydowski socjalistyczny człowiek. Ambitny projekt wymagał jednak walki z naturą, planowania i uporu. Ale przede wszystkim ludzi: personelu zarządzającego, administracji, budowniczych. Ci, którzy chcieli wziąć udział w tym wielkim przedsięwzięciu, uciekali przed głodem, nędzą, brakiem perspektyw, antysemityzmem, opresją. Gonili marzenia o normalności. Chcieli mieć pracę i nadzieję.
Droga do Birobidżanu, stolicy Żydowskiego Obwodu Autonomicznego, była jednak bardzo daleka, a podróż okazała się pierwszym wyzwaniem dla tych, którzy uwierzyli w sens budowy żydowskiej autonomii. Potem było jeszcze trudniej. Osadnicy walczyli zarówno z niedającą się poskromić naturą i przeciwnościami losu, jak i z nowym porządkiem gospodarczym i ideologicznym. W opowieściach tych, którzy do Birobidżanu dotarli, nie ma mitu żydowskiej ojczyzny, słychać za to gorycz przegranej.
Birobidżan. Ziemia, na której mieliśmy być szczęśliwi to historia Żydowskiego Obwodu Autonomicznego od jego powstania i kolonizacji pod koniec lat dwudziestych XX wieku, przez kolejne fale stalinowskich represji, chaos pierestrojki i transformacji, po niepewność czasów współczesnych.
Dziś żydowskość jest w Birobidżanie "marką". W tamtejszej filharmonii restaurację "w żydowskim stylu" otworzył Chińczyk. Na pamiątkę można sobie przywieźć talerzyk z menorą albo figurkę Żyda. Wyprodukowane w Chinach.
---
Share this Product
---