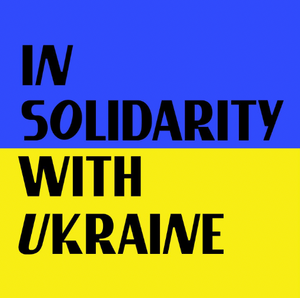 In Solidarity with Ukraine - poster
Regular price
£2.00
£0.00
Unit price
per
Tax included.
Fundraiser for Refugees in Ukraine
#SolidarityWithUkraine
https://gofund.me/a5ddf5d9

Since the invasion over half a million people fled Ukraine, mainly to the neighbouring countries but millions more are expected. 

We as CEE Communities Leaders  have watched with alarm and concern as events have unfolded in Ukraine into full scale military invasion. So we have come together to organise direct action to help with growing numbers of refugees escaping the war. Our thoughts are with the people of Ukraine and their neighbours as they are dealing with this developing crisis.

 We are taking action to collect funds to help refugees fleeing Ukraine, regardless of their background with emphasis on already marginalised communities. 

 Our aim is to support the relief efforts taking place in Central and Eastern Europe by raising funds for recognised charities and organisations working on the ground offering direct support to Ukrainian refugees in Poland, Slovakia, Romania and Hungary. We will transfer funds to trusted and verified organisations. 

 Here in Birmingham, we will be working with Community Groups to provide access to information, advice and emotional support for all those affected and also to help combat disinformation while tensions remain high. We will be offering regular drop-in support sessions at Centrala to provide emotional support and immigration information to families concerned about their close ones fleeing Ukraine. We will be preparing for the arrival of refugees here and to respond to the fast changing situation.

We will update you as our projects and services become available and are happy to speak with anyone who needs our help or feels they can offer assistance.
 This Fundraiser is organised by CEE Leaders Forum, a coalition of community organisations and groups:

 
Polish Expats Association Centrala 

Czech & Slovak Club 

Birmingham o Lietuviai 

AKnoteikumi 

The CEE Community Leaders Forum does not have a political agenda and respects all our members from each nation, however we feel we should make clear our condemnation of the actions of the Russian Government and will not engage in or condone political discussion of this situation on our platform. Solidarity with Ukraine.
---
Share this Product
---