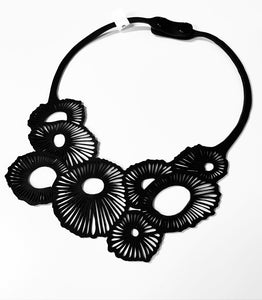 Coral (inner tube necklace) by Paguro
Regular price
£39.00
£0.00
Unit price
per
Tax included.
Marine Inspired Vegan Rubber Necklace
The Coral Eco Friendly Rubber Necklace is made by hand in a way which is both eco-friendly and cruelty-free. The reclaimed rubber makes a great vegan alternative to leather due to its durability and tactile nature. Human activities, environmental impact, global warming and pollution have caused significant damage to the coral reef. Coral reef is not just decorative, but they form a foundation for marine life. Alarmed by the damage caused to the planet by our waste, the artisans have reused and recycled inner tubes, recreating them into eco-friendly rubber necklaces. Product Information
Handmade using reclaimed rubber
Durable inner tube wraparound cord with plastic button closure
Lightweight and comfortable to wear
Easy to clean and maintain
Suitable for vegans
Luxury gift box
Size: Length 17cm, Width 4cm on the widest point
Materials
98% recycled rubber, 2% new materials Please note that there may be slight variations in colour, size and pattern from the pictured product. This reflects the handmade nature of the items and the sourcing of upcycled materials. It also adds to the individuality and uniqueness of each item. No two products are the same.
---
Share this Product
---