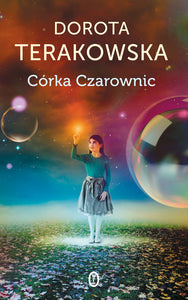 Córka Czarownic - Dorota Terakowska
Regular price
£7.60
£0.00
Unit price
per
Tax included.
Arcydzieło o dojrzewaniu, pierwsza udana próba doścignięcia mistrzów gatunku, takich jak Tolkien czy Le Guin —tak pisze krytyka o tej niezwykle poczytnej baśni fantasy o oryginalnej fabule i skomplikowanej dramaturgii. Tytułowa córka Czarownic to potomkini królewskiego rodu, przygotowywana od dzieciństwa po wiek dojrzały przez pięć Czarownic do trudnej sztuki uwolnienia kraju z rąk Najeźdźców i do rządzenia.

Będąc doskonałą lekturą dla czytelników w każdym wieku, jest równocześnie niezwykle ambitnym utworem w swoim gatunku. Wpisana w roku 1994 na Światową Listę im. H. Ch. Andersena, znalazła się wśród najlepszych książek świata dla dzieci i młodzieży.

Lektura uzupełniająca.Jeżeli więc szukacie powieści fantasy na poziomie Tolkiena i C.S. Lewisa, która dodatkowo zatrzyma was na chwilę refleksji, to "Córka czarownic" jest lekturą dla was idealną. Młodsi czytelnicy zachwyceni będą stworzonym światem i przygodami Luelli, starsi zaś oprócz tego, czym zachwycać będą się mali czytelnicy, odkrywać będą znaczenie symboliczne tej powieści. Tak, Dorota Terakowska, to osoba która nie opisuje wszystkiego wprost. Niektórych rzeczy trzeba się domyślić.
360 stron. 
---
Share this Product
---