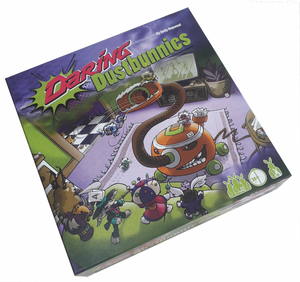 Daring Dustbunnies - HOPWOOD GAMES
Regular price
£29.00
£0.00
Unit price
per
Tax included.
It's time to clean up!
The vacuum cleaner is out and the Daring Dustbunnies that live under the sofa are ready to race.
In this game you will play the role of a Daring Dustbunny trying to get your fluffball closest to the vacuum cleaner when another fluffball is sucked up the tube and into the bag.
"Mystery" - Each round the identity of your fluffball is a mystery. Work out what colour your opponents are but keep yours a secret.
"Card Control" - Play your cards wisely to misdirect other players and manipulate the order of the fluffballs so you are in gold position.
"Cheating" - Use the magic charms you collect along the way and your character's unique special power to tip the balance of the game in your favour.
Daring Dustbunnies is a card driven board game full of hidden information which will reward players who like to push their luck.
Players - 2 to 5 / Duration - 15 minutes per player / Age - 10+
Andy Hopwood has been designing games since he was a teenager, he did this just for fun and his friends and family were his only, exclusive, audience. In 2009, inspired by a desire to do something for his son's school, he took the plunge to self-publish Niche.
Mijnlieff soon followed and when it won the award for best abstract game at the UK Games Expo in 2010 it dawned on him that all those years of thinking about games had actually made a difference.
Since then he has self published a dozen games. Zoom Zoom Kaboom won the award for best Board Game (UK Expo 2012), Dodekka was published by Coiled Spring Games and most recently Daring Dustbunnies won the Judges award for Best Family Game (UK Expo 2021).
Andy's approach to design starts with the mechanics and his mantra is "Laugh, Think and Swear". In other words if a game design can inspire people to make sounds of joy (yesss), deep thought (hmmmm) and frustration (argh!) then it's having an effect on the world.
He has self-published most of his games because he really wants people to play them. He is also very happy to work with larger publishers to bring his ideas to a wider audience.
---
Share this Product
---