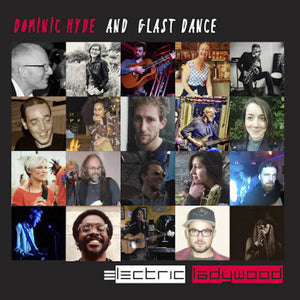 Dominic Hyde And Glast Dance - Electric Ladywood CD
Regular price
£10.00
£0.00
Unit price
per
Tax included.
Electric Ladywood has taken eight years to write, arrange and record. .

Electric Ladywood is a community album, and any profit it makes will be distributed co-operatively. 20% of any album profit will be donated to charity. 25% will go to songwriter and lead vocalist Dominic Hyde. The remaining 55% will go to the 22 musicians, producers and guest vocalists who helped to make it possible.

Charities are voted on every six months by the album's musicians and producers. In the first six months, 5% of profits will go to the Indigenous Environmental Network, 10% to the NHS, and 5% to Telescopic Media, which is a small Birmingham music studio which works primarily alongside charities and often helps to record musicians for free, supporting Birmingham-based talent like Philippa Zawe, Millicent Chapanda and Kate Wilkins.


Track listing:
1. My Boy The Pundit (ft. Anne-Marie Allen, Jobe Baker-Sullivan) 04:05
2. Always Good (ft. Jack Goodall, Karen Swan) 03:06
3. God's Mercy (ft. Alicia Gardener-Trejo, Pete Hyde) 03:27
4. Oberon 03:50
5. Marceline (ft. Alicia Gardener-Trejo, Karen Swan) 04:06
6. Perfect Circus 04:13
7. No Game (ft. Pete Hyde) 05:06
8. White Wolf, Black Doe (ft. Marley Starskey Butler) 04:18
9. Jeunesse (ft. Kate Wilkins) 03:04
10. If You Never Ask (ft. Anne-Marie Allen, Hannah Molloy) 04:28
11. In (ft. Kate Wilkins, Jobe Baker-Sullivan) 05:41
12. You Are A Light (ft. Anne-Marie Allen, Kate Wilkins) 04:49
13. The Loving Tide 04:53
14. Without Community, Love Will Not Become Justice 20:14
15. Bonus Track 1: Giant's Garden 05:27
16. Bonus Track 2: Oberon (acoustic version) 04:11
alternative
ska
alt-folk
alt. folk
country rock
garage soul
punk funk
rock n' roll
ska
soul
Released September 25, 2020
---
Share this Product
---