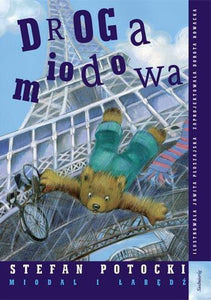 Droga Miodowa. Miodal i łabędź. Stefan Potocki
Regular price
£1.62
Sale price
£2.70
Unit price
per
Tax included.
Droga Miodowa to książka przygodowa dla małych i dużych dzieci. Opowiada o podróży misia Miodala do pięknych miejsc w Europie, w których przytrafiają mu się zaskakujące, raz miłe, raz dziwne przygody. Ale jest to podróż niezwykła.
Miodal wyrusza w drogę, czując się jak dorastający chłopiec, który już myśli, że wie, co chciałby robić (chce się bawić, cały świat należy do niego), ale nie jest jeszcze dorosły…
Joanna Szczepkowska: Ta książeczka jest podróżą, jest przygodą, jest początkiem wiedzy o świecie. A przy tym kupując ją można zrobić coś dobrego dla dzieci, które potrzebują pomocy. Podróże Miodala kształcą, ale i zmieniają na lepsze świat dzięki celowi, dla którego powstały. Określenie "dobra książka" ma tu więc podwójne znaczenie.  
17.0 x 24.0
twarda oprawa
80 str.
---
Share this Product
---