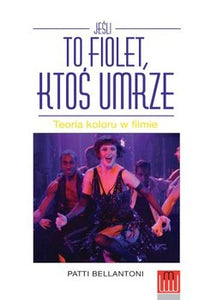 Jeśli to fiolet, ktoś umrze. Teoria koloru w filmie - Bellantoni Patti
Regular price
£13.10
£0.00
Unit price
per
Tax included.
"Jeśli to fiolet, ktoś umrze. Teoria koloru w filmie" jest przełomową książką, która wyjaśnia, jak kolor wpływa na widownię i narrację, postaci oraz rozwój scen. Bellantoni, która ma za sobą lata badań nad wpływem kolorów na zachowania, zebrała ponad 60 filmów i pogrupowała je w strefy wpływów sześciu głównych kolorów. Za pomocą subtelnych fotosów filmowych i dzieł sztuki wyjaśnia, jak każdy z tych kolorów uruchamia konkretne stany emocjonalne i reakcje widzów, służąc również do wzmocnienia i zwielokrotnienia emocji postaci.
Autorka tłumaczy każde dzieło filmowe, wyjaśniając jak, dlaczego i gdzie kolor odzwierciedla i wpływa na emocje, zarówno postaci na ekranie, jak i wśród widowni. Dyskusje z przyjaciółmi autorki, między innymi z laureatami Oscara, scenografami Henrym Bumsteadem (Bez przebaczenia), Robertem Boylem (Sprawa Thomasa Crowna), Wynn P. Thomasem (Piękny umysł) i Larrym Paullem (Łowca androidów), jak również uznanymi operatorami Rogerem Deakinsem (Skazany na Shawshank), Edwardem Lachmanem (Daleko od nieba), Johnem Sealem (Angielski pacjent) i Amy (Rozlewiska uczuć) wyjaśniają, jak kolor przekazuje to, co nie zostało wypowiedziane i okrywają jak i dlaczego rozmówcy dokonali konkretnych wyborów kolorystycznych, zarówno świadomie, jak i instynktownie.
"Jeśli to fiolet, ktoś umrze, Teoria koloru w filmie" to lektura niezbędna dla filmowców, studentów szkół filmowych i wszystkich zainteresowanych kinematografią. Ta wspaniała książka pomaga profesjonalistom dokonywać właściwych wyborów kolorystycznych dla ich filmów i pozwala hobbystom odpowiedzieć na pytanie, dlaczego czują to, co czują, gdy oglądają filmy, które utrzymane są w konkretnych gamach kolorystycznych. Bellantoni wykorzystuje swoje doświadczenie i badania by zademonstrować, jaką moc może mieć kolor i pobudzić naszą świadomość na barwy, które nas otaczają sprawiają, że czujemy, zachowujemy się i reagujemy w określony sposób.
---
Share this Product
---