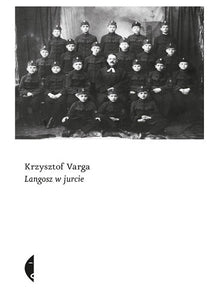 Langosz w jurcie - Krzysztof Varga
Regular price
£8.50
£0.00
Unit price
per
Tax included.
Węgry kształtem przypominają langosza, a plan tej podróży był prosty: objechać kraj wzdłuż granic, czyli objeść go jak langosza od chrupiących krawędzi. Pierwsze ugryzienie to Fertőd i odrobina luksusu w pałacu Esterházych, węgierskim Wersalu, a potem kolejne kęsy wzdłuż siedmiu granic, aż do ostatniego w Győr i pożegnania z krajem nad paprykarzem z ziemniaków z kiełbasą.
A po drodze między innymi zagadka skradzionej głowy Josepha Haydna, grób serca, jelit i wątroby Sulejmana Wielkiego, cygańskie Gilvánfa z cygańskim samorządem i z cygańską biedą, Hercegszántó z wielką blaszaną Matką Boską i spółdzielnią rolniczą imienia Lenina, Ásotthalom z domem pamięci najsłynniejszego węgierskiego rozbójnika Sándora Rózsy i Mátészalka, gdzie produkuje się batony túró rudi, czyli dla wielu jeden z nielicznych powodów, dla których warto przyjechać na Węgry. Po drodze przystanki w kąpieliskach i ślady polskiej wojennej tułaczki po wrześniowej klęsce.
Krzysztof Varga od lat przemierza kraj w poszukiwaniu kuriozów, ciekawostek, miejsc, do których nikt nie zagląda. Rusza w drogę i nigdy nie wie, gdzie skręci zwiedziony intrygującym drogowskazem. Osobliwe pomniki walczą w jego sercu o lepsze z odkrytą przypadkiem nieznaną wcześniej czardą, w której podają fenomenalny pörkölt z jelenia.
Ostatnia część "węgierskiej trylogii" to wędrówka po madziarskiej prowincji wzdłuż dzisiejszych granic kraju. Okazuje się jednak, że biegną one inaczej niż na mapie, bo współczesne Węgry to kraj, którego nie ma, ogryzek z dawnego wielkiego państwa, więc Varga nieustannie albo zbliża się do centrum, albo granice przekracza.
---
Share this Product
---