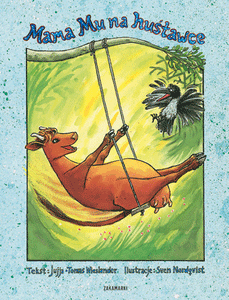 Mama Mu na huśtawce – Jujja Wieslander, Tomas Wieslander
Regular price
£5.60
£0.00
Unit price
per
Tax included.
Czy krowy mogą huśtać się na huśtawce? Pewnie nie wszystkie, ale dla Mamy Mu nie ma nic niemożliwego, szczególnie że o pomoc może poprosić swojego przyjaciela, Pana Wronę. Ten oczywiście puka się w czoło – kto widział krowę na huśtawce!? I jeszcze on miałby jej w tym pomagać!?
Mama Mu zna jednak sposoby, aby swego przyjaciela Pana Wronę nakłonić do współdziałania i Pan Wrona w końcu przywiązuje huśtawkę na gałęzi.
Ale gdy Mama Mu rozsiadła się już wygodnie na huśtawce, okazuje się, że huśtanie wcale nie jest takie proste… Bo czym tu machać i w którą stronę, aby się rozbujać? Pan Wrona nie przyłoży przecież do tego skrzydła, wystarczająco skompromitował się już wieszaniem krowie huśtawki.
Bogate w szczegóły genialne ilustracje Svena Nordqvista, znanego polskim dzieciom z książek o Pettsonie i Findusie, pełne są niespodzianek dla spostrzegawczych i wspaniale oddają charaktery obu bohaterów.
— Jesteś krową, Mamo Mu. Owszem, dziwną, ale krową. Krowy. Się. Nie. Huśtają.
— Właśnie — odrzekła Mama Mu. — Więc chyba powinno się współczuć krowom, że nie mają nawet okazji się pohuśtać.
— Współczuć! — zawołał Pan Wrona. — Kra! Krowy chodzą tylko i się pasą! Jeszcze leżą, żują i gapią się przed siebie. I jeszcze są dojone. I to im wystarcza.
— A tobie by to wystarczyło? — zapytała Mama Mu.
— Mnie nie! — zawołał Pan Wrona. — Przecież jestem wroną.
— Mnie też to nie wystarcza — stwierdziła Mama Mu.
22.5 x 29.5 cm
twarda oprawa
28 str.
---
Share this Product
---