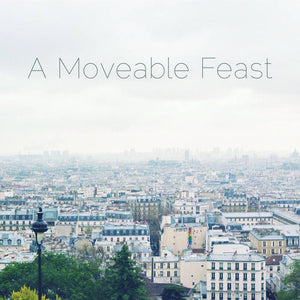 Mark Pringle - A Moveable Feast CD
Regular price
£10.00
£0.00
Unit price
per
Tax included.
The debut album from Mark Pringle.
Guardian Guide – Pick of The Week, September 2015
"A brilliantly mature and restrained piece of music that sounds thoroughly original and big in scope … outstanding writing and arranging … beautifully performed … thought-provoking and highly rewarding listening. A really outstanding achievement from a musician with a very bright future indeed."
– Peter Bacon – The Jazz Breakfast
"Ambition to match his talent … a striking writer and orchestrator as well as a fine keyboard player. The lasting impression is the variety and the skill in creating fresh orchestral effects that Pringle deploys so well. He uses the wealth of possibilities … sparkling contributions on piano … his impressive CD is a calling card from someone who surely deserves opportunities to create music for even larger forces in future."
– Jon Turney – London Jazz News
"An adventurous instrumental journey of thoroughly original music, utilising a wealth of ideas from the composer's opulent imagination, brilliantly creating picturesque soundscapes … a compelling style and energy … The arrangements are stunning. There is a deep, dark, lyrical beauty to this … a veritable feast for the ears. 'A
...
more
credits
released September 18, 2015

Stoney Lane Records #SLR1954
-
Mark Pringle - Piano
Percy Pursglove - Trumpet
Chris Young - Alto Sax
Dan Searjeant - Tenor Sax, Alto Sax, Flute
Alicia Gardener-Trejo - Bass Clarinet, Baritone Sax, Alto Flute
Christine Cornwell - Violin
Sarah Farmer - Violin
Megan Jowett - Viola
Lucy French - Cello
Ben Lee - Electric Guitar
James Banner - Double Bass
Euan Palmer - Drums
-
Recorded 01.09.14 by Luke Morrish-Thomas in the Adrian Boult Hall, Birmingham
Mixed by Luke Morrish-Thomas and Mark Pringle
Mastered by Alejandro Merola at Superche Studio, London
Design by Mark Pringle and Sam Slater
Photography by Mark Pringle and James Banner
Track Listing:
1. A Real Bombshell 05:42
2. Ode To The Trees 05:15
3. Happy Plants (Part I) 01:15
4. Hasha's Theme 06:09
5. Happy Plants (Part II) 01:16 video
6. The Writer 07:00
7. Through The Grate 03:41
8. And That's Ok 01:07
Released September 18, 2015
---
Share this Product
---