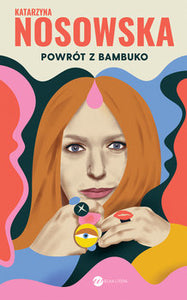 Powrót z Bambuko - Nosowska Katarzyna
Regular price
£8.80
£0.00
Unit price
per
Tax included.
Katarzyna Nosowska

Znasz ją z hitów zespołu Hey. Katarzyna Nosowska to nie tylko wybitna artystka i wokalistka, ale również i pisarka. Powrót z bambuko to publikacja, w której ujawnia dystans do samej siebie. O czym jest ta publikacja o przewrotnym skądinąd tytule?
Co ludzie powiedzą? Katarzyna Nosowska wyraźnie nie przejmuje się tym, jak widzą ją inni ludzie. Tobie radzi to samo – uczy dystansu do swoich poczynań. Wskazuje na prostą prawdę – ludzie zawsze będą gadać, ale tylko tyle, by nasycić swoją potrzebę plotkowania. Niech mówią, co Ci do tego. Nie wchodź z takimi ludźmi w dyskusję, a żyj tak, jak Ci się podoba, bez ranienia innych.
Książka humorystyczna, ale i skłaniająca do myślenia
Katarzyna Nosowska w pozycji Powrót z bambuko mówi o tym, co dzieje się, gdy świat, który Cię otacza, staje na głowie? Dodaje Ci słów otuchy, które bardzo przydają się w czasach, w których żyjemy. Rozpala swoiste światełko nadziei i nie stroni od dobrego humoru, dlatego książkę tę czyta się dosłownie jednym tchem.
---
Share this Product
---