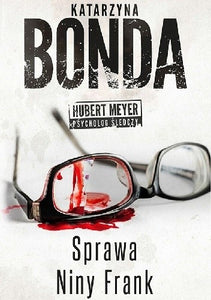 Sprawa Niny Frank - Katarzyna Bonda
Regular price
£7.50
£0.00
Unit price
per
Tax included.
Pierwsza na polskim rynku powieść kryminalna, której bohaterem jest tzw. profiler, czyli psycholog wykonujący portrety psychologiczne nieznanych sprawców. 
Akcja powieści rozgrywa się w dwóch światach: jeden to sielska miejscowość przygraniczna – Mielnik nad Bugiem, gdzie do tej pory nie działo się nic oprócz lokalnych skandali, a życie płynęło leniwie, drugi – to high life stolicy, w którym żyje najpopularniejsza aktorka polskich seriali – Nina Frank. Prawdę o niej poznajemy z dziennika internetowego, który zaczyna prowadzić w pewnym momencie swego pełnego skandali życia. Dowiadujemy się o jej dwuznacznej drodze do kariery, licznych kochankach, nałogach, różnego kalibru świństwach i grzeszkach. Jednocześnie w swoim życiu odgrywa role szczęśliwej i dobrej – jak grana przez nią postać zakonnicy Joanny, która przyniosła jej pieniądze i sławę. Kochają ją miliony telewidzów i wierzą w wykreowany wizerunek. Te dwa światy przeplatają się przez całą książkę, by spotkać się w kulminacyjnym punkcie akcji, gdy dochodzi do wyjaśnienia zagadki śmierci Niny Frank. 
Kiedy aktorka zostaje znaleziona w swoim dworku nad Bugiem martwa, do Mielnika nad Bugiem przyjeżdża Hubert Meyer – profiler policyjny i zaczyna po kolei odkrywać tajemnice gwiazdy. Poznając sekrety Frank i próbując stworzyć profil jej mordercy, Hubert Meyer analizuje także swoje życie, atakują go wspomnienia i przy okazji badania zbrodni dociera do skrywanych przed sobą własnych tajemnic.
---
Share this Product
---