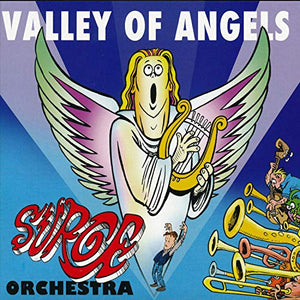 Surge Orchestra - Valley Of Angels CD
Regular price
£10.00
£0.00
Unit price
per
Tax included.
"Valley of Angels" is the third album by the Birmingham based Surge Orchestra, led by composer, conductor and all round renaissance man Sid Peacock.
The third Surge Festival will also act as the official launch for "Valley Of Angels", a work that Peacock describes as being;
"driven by the understanding that music can bring about fundamental shifts in our perception of reality. Hallucination, visions, outer space alien invasions whilst gardening along with many other tales of everyday madness."
He dedicates the album to "Bangor, County Down and all its crazy characters". Despite his many years in Birmingham Peacock remains proudly Irish and draws much of his inspiration from the land of his birth.
Surge stands for "Sidist Utopian Revolutionary Groove Ensemble" and is regarded by its creator as an "intercultural Orchestra" incorporating elements of free jazz, traditional folk, contemporary classical, spoken word and rap plus a growing interest in various ethnic musics. The folk and classical components ensure that Surge has half a dozen string players in its ranks, thus ensuring that it sounds very different to the conventional jazz big band or jazz orchestra.
Track listing:
1. Sit the Vampire in the Sun (feat. Juice Aleem)
2. Valley of Angels
3. Molly's Disco Biscuit
4. Chinese Flowers
5. Maniacal Heroics of Number 13
---
Share this Product
---