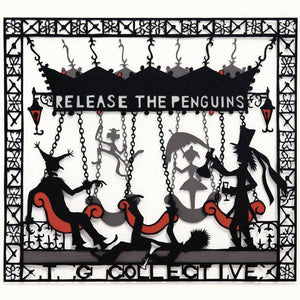 TG Collective - Release The Penguins CD
Regular price
£10.00
£0.00
Unit price
per
Tax included.
"Jump to the last track, The Sheik of Araby and you'll see that they can let their hair down. The flamenco-inspired TG Collective won plaudits as Trio Gitano. Their updated, expanded line-up, with the acoustic guitars of Jamie Fekete and Sam Slater balanced by flute, violin, double bass and discreet percussion, sounds more assured than ever. From gypsy swing to hustling, Chick Corea-ish improv, a re-working of Horace Silver's Song For My Father and serene excursions into the baroque, the playlist always keeps you guessing. And the telepathy is always tuneful."
- The Sunday Times - December 2012
"…impeccable musicianship … a Gypsy jazz delight … played with masterly flamenco and classical guitar technique … The musicianship of the players provides some glorious sounds and textures. There is certainly some beautiful and emotional music on this album … This is different and interesting. And did I mention the impeccable musicianship?"
- fRoots - November 2012
"…literally stopped people in their tracks and gained onlookers throughout with their amazing musicianship and intricate solos."
- Yahoo!
 

- September 2012

"They play together with pinpoint precision … scorching improvisations … a rewarding listen all round. ★★★★
- Songlines - July 2012

"A very tasty gumbo indeed. TGC's ever widening crazy-quilt of influences … delightful … swinging … unerringly lyrical."
- Jazzwise, June 2012

"… dazzling mix of flamenco, jazz, classical and swing, as heard on their new album 'Release the Penguins'."
- Time Out - 2012

"One would need a Large Hadron Collider to discover the single unknown something that makes TG Collective's Release The Penguins the infectious little treasure that it is … There is so much at play here … madcap … flirtatious … intricate … dramatic, filmic complexity … Often intoxicating in its musical curiosity and so exquisitely produced."
- Northern Sky Music Magazine - September 2012


released May 28, 2012
In a lovely card digipak case, with brilliant original papercut artwork by Suzy Taylor
Track Listing:
1. Release The Penguins 03:31
2. Silhouette 06:13
3. Song For My Father (Part I) 02:20
4. Escape From Girona (Part II) 06:27
5. Not A Waltz 06:20
6. Sutta 06:57
7. Homage 06:18
8. The Long Arm 02:46
9. On The Run 02:58
10. The Sheik Of Araby 03:37
---
Share this Product
---