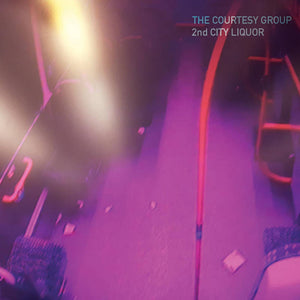 The Courtesy Group - 2nd City Liquor CD
Regular price
£10.00
£0.00
Unit price
per
Tax included.
Since its acclaimed, and BBC 6-played debut, 'Tradesman's Entrance', TCG's line-up has changed considerably, with
original guitarist and keyboardist Fyfe Dangerfield departing to form GUILLEMOTS in 2005 and DELTA drumbo Bird
leaving to play guitar in THE NATURE CENTRE.
After traipsing the length and breadth of the Birmingham & Black Country area for a replacement as gifted as
Dangerfield, TCG's founder and verbalist Al Hutchins and longstanding bass anchor Dave Cochrane (HEAD OF DAVID,
GOD, SWEET TOOTH, ICE, JESU and currently TERMINAL CHEESECAKE) finally found the Japanese guitar maestro
Hidehiko Nagai living five minutes away from singer Al Hutchins' Smethwick base, after he had answered an advertisement
for a 'Sound Scientist' who "wished to emulate no one, but admired the likes of Funkadelic, Can, Spike
Milligan and Howlin' Wolf."
Originally recruiting the improbably named Leo Crabtree, before losing him to THE PRODIGY, TCG trialled other
drummers, before accidentally recruiting drummer Dave Baker and bassist Saul Hillier - the rhythm
 

section of local
spazz-meat-rock racketeers MILLS & BOON in 2006. This created a twin-bass attack, which seemed too dangerous to
roam the world at large, so it stayed to bolster an already driving rhythm section.
Far from being the 'difficult second album', the songs you now hear on 'Second City Liquor' have been truly inhabited;
organic, surrealistic, everyday, psycho-geographical slices of lives from a range of different perspectives: from the
going-mad dervish of BRICK HOUSE BLUES to the "Kyrie Eleison/I'm on medication!" galley-stomp of IN THE ROCK, ON
THE ROCK, through the Afro-flecked calypso of "K.P's day off/ being worked" in WHEN CLOSED to the bad-hair
day/aerodrome extraordinaire that is A HECKORY BASE DAY.
"I used to claim that when folk saw us they were witnessing a political rally held by out of work circus clowns, but
although there is a travelling-medicine-show madness to what we present live, the songs reflect a range of different
perspectives and emotions," says Hutchins. "I'd say we are more interested in making little movies encompassing
landscapes, colours and tales-than all that tedious sing yer friggin' diary stuff ! We have to feel as surprised and
excited by the songs we're crafting (sonically and lyrically) as you will, otherwise why bother?"
Marmite to most musical confectionery, set apart in their own musical galaxy, Birmingham's own tunemongering
grinesters, The Courtesy Group, survive against fashion, mediocrity, systematic dullness and impossible odds: live,
they remain a robust antidote to a fully digitalised itunes world.


released August 24, 2018


Track listing:
1. At The End Of The Credits 02:35
2. Brick House Blues 03:01
3. Back Out The Fuss 03:21
4. Approval Bums 02:48
5. Cheapskate Belittles 03:47
6. In The Rock, On The Rock 06:14
7. The Heart Hogger 03:39
8. Closing (Seque) 00:31
9. When Closed 03:54
10. Reacreation Point 05:39
11. One Red Stripe Across The Sky 03:05
12. Play Some Music, Play Some Music (Seque) 01:25
13. A Heckory Base Day 05:59
14. None More Lovely Than A Lost Cause 02:38
---
Share this Product
---