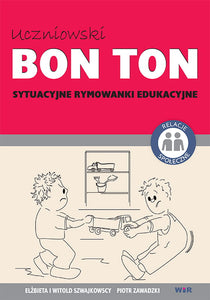 Uczniowski BON TON - Sytuacyjne rymowanki edukacyjne
Regular price
£6.10
£0.00
Unit price
per
Tax included.
Uczniowski BON TON to zestaw 49 kart pracy, których tematyka poświęcona jest zasadom życia w grupie, kulturze osobistej, dobrym manierom. Każda reguła wprowadzana jest przy pomocy krótkiej, łatwej do zapamiętania rymowanki, ilustracji oraz powiązanego z nią ćwiczenia.
Dzięki zwięzłej formie karty ułatwiają zapamiętywanie zasad i zachęcają do ich przestrzegania.

Uczniowski BON TON doskonale sprawdzi się jako pomoc w pracy wychowawczej z uczniami szkoły podstawowej. To propozycja, która pomoże każdemu uczniowi przyswoić zasady dobrego wychowania, szczególnie przydatna dla dzieci z trudnościami w relacjach społecznych.
---
Share this Product
---