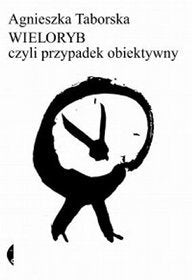 Wieloryb czyli przypadek obiektywny. Agnieszka Taborska
Regular price
£5.76
Sale price
£7.60
Unit price
per
Tax included.
Taborska kolekcjonuje sytuacje, w których coś nieznanego atakuje normalność. Albo, niewykluczone, sama natura rzeczywistości odsłania właściwe sobie poczucie humoru. I to my jesteśmy jego przedmiotem. Siedząc zatem w tym świecie, w tym Wielorybie, też rozejrzyjmy się trochę. I, jak mawiał Andre Breton, powiększmy skarbiec mitów intuicji.
Wieloryb Agnieszki Taborskiej wygląda na zbiór anegdot. Ale to coś innego. Objawia inny zakres realności. Ten, gdzie sowa jest córką piekarza (słowa Ofelii w Hamlecie). Gdzie szewczyk szył buty z wołowego ryku (polski wierszyk ludowy). Gdzie księżyc jest z zielonego sera (angielski przesąd). Gdzie wyborny trup będzie pił nowe wino (surrealistyczny eksperyment pisarski). Gdzie obecny król Francji jest łysy (logiczny sąd niefalsyfikowalny). Gdzie ptaki są tłuste, bo tłuste (zdanie sprzeczne w teorii Chomsky'ego). I gdzie, krótko mówiąc, to są takie słupy, to są takie gniady (wiersz lingwistyczny z powieści Masłowskiej). Gdyby rzeczywistości dało się wprawić mowę, przemówiłaby takim językiem. Mową absurdu.
Wyobraźcie sobie guzik. Ale nie całkiem zwykły, tylko z trzema dziurkami. Widzicie go już? Wygląda niewinnie, aż spróbujecie go przyszyć. Owszem, da się, ale jakby nie do końca. Nie przypadkiem brak na to dobrego słowa. Próba przyszycia takiego guzika jest niczym innym, jak przekładem Wieloryba na krawiectwo. Absolutnie autentyczne historie, jakie podpatrzyła Taborska, nie dają się przyszyć do zwykłego obrazu świata, bo zawierają aspekt nieprzystawalności.
14.0 x 21.0cm miękka oprawa 168 str.
---
Share this Product
---