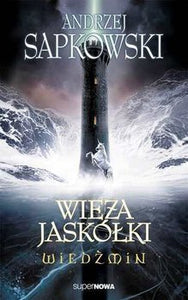 Wieża jaskółki. Wiedźmin. Tom 6 - Andrzej Sapkowski
Regular price
£11.00
£0.00
Unit price
per
Tax included.
"Wieża jaskółki", szósta z kolei odsłona losów nieustraszonego Geralta z Rivii. Przekonaj się, jakie zadanie czeka na niego podczas jesiennego Ekwinokcjum.
Klęska jest nieunikniona. Świadczy o tym niemal wszystko i każda bardziej spostrzegawcza istota dostrzeże to bez problemu. Przyczyną wydaje się jesienne Ekwinokcjum. Wszystko staje się coraz dziwniejsze i bardziej przerażające. Nadciąga niespodziewana zawierucha, a Leiki śpiewają konajączkę. Ten sam sen nawiedza jednocześnie trzy różne osoby na terenie świątyni Melitele.

Tymczasem Ciri powoli dochodzi do siebie po niedawno odniesionych obrażeniach. Przebywa w chacie pustelnika Vysygoty. Na szczęście jej zdrowiu już nic nie zagraża. Kiedy przybrana córka Geralta dochodzi do wcześniejszej sprawności, postanawia przybliżyć gospodarzowi szczegóły swej podróży, łącznie z tym, w jaki sposób trafiła do miejsca, w którym obecnie się znajduje. Ciri nawet nie zdaje sobie sprawy z tego, że Geralt wciąż przetrząsa okolicę, by ją odnaleźć. Nie jest ON jednak jedyną osobą, która jej szuka. Na "łowy" wyrusza także cesarz Emhyr var Emreis, pragnie ON ją poślubić i zbliżyć się do tronu Cintry.
---
O autorze
Andrzej Sapkowski to polski pisarz znany ze swoich powieści fantastycznych o Wiedźminie Geralcie. Urodził się w Łodzi w 1948 roku. Seria wiedźmińska przyniosła mu ogromną sławę nie tylko w ojczyźnie, ale również poza nią. Przygotowano do niej serię komiksów, grę fabularną, grę karcianą, film fabularny, a także serial telewizyjny. Był wyróżniany wieloma nagrodami. Warto wymienić Paszport "Polityki" w 1997 roku, Nagrodę Fundacji Literackiej im. Natalii Gall w 1990 roku oraz Nagrodę Ikaros i Ludvik w Czechach w 1993 roku.
---
Share this Product
---