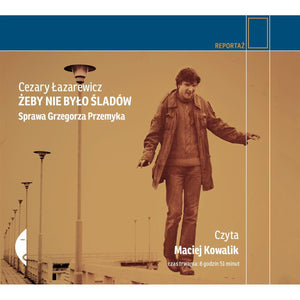 Żeby nie było śladów sprawa Grzegorza Przemyka - Cezary Łazarewicz CD MP3
Regular price
£9.90
£0.00
Unit price
per
Tax included.
Czas trwania: 8 godzin 51 minut
Czyta: Maciej Kowalik
"Ludzie o miedzianym czole, utożsamiający milicję z władzą, postanowili poświęcić prawdę dla swoich doraźnych korzyści, skompromitować wymiar sprawiedliwości w Polsce cynicznymi manipulacjami, które będą kiedyś książkowym przykładem niesprawiedliwości" – to słowa matki Grzegorza Przemyka, świeżo upieczonego maturzysty, który w maju 1983 roku został śmiertelnie pobity przez milicję. W czasie śledztwa i rozprawy władze PRL za wszelką ceną starały się odwrócić uwagę od milicjantów, próbując przerzucić odpowiedzialność na sanitariuszy i lekarzy.
Cezary Łazarewicz szczegółowo opisuje historię Grzegorza Przemyka – od zatrzymania na placu Zamkowym po wydarzenia, które nastąpiły później. Pokazuje cynizm władz komunistycznych, zacierających ślady zbrodni, a także bezsilność władz III RP, którym nie udało się znaleźć i ukarać winnych. W opowieść o Przemyku autor wplata historie jego rodziców – poetki Barbary Sadowskiej i ojca Leopolda, przyjaciół, świadków jego pobicia czy sanitariuszy, niesłusznie oskarżanych o zabójstwo. Jednocześnie odkrywa kulisy działań władz i wpływ, jaki na tuszowanie sprawy wywarli między innymi Wojciech Jaruzelski, Czesław Kiszczak czy Jerzy Urban.
To jedna z najgłośniejszych zbrodni lat osiemdziesiątych w PRL. W pogrzebie Przemyka wzięło udział kilkadziesiąt tysięcy ludzi, którzy z podniesionymi w znaku wiktorii dłońmi, w całkowitym milczeniu odprowadzali trumnę na Powązki. To również zbrodnia, która nie doczekała się sprawiedliwego wyroku.
---
Share this Product
---